We provide a full range of commercial and residential real estate development services including site acquisition, land entitlement, design, permitting, construction, asset management, and consultation.  Headquartered in Charlotte, NC, with a regional office in Pittsburgh, PA, we serve clients on a local, regional and national level, having operated in more than 30 states.
That is what we do. What makes us different is how we do it.
Our mission is to be a market leading developer, owner and operator of retail, residential, and office properties throughout the US.
This mission is fueled by a unique fusion of innovative thinking, common sense, and old-fashioned hard work. We connect dots others don't even see. We roll up our sleeves when others simply walk away. And, because our relationships matter most, we do it all with transparency and integrity.
At Durban, we don't just look for value, we create it. We recognize that business relationships are built around communication, trust, and success and we want people to enjoy working with us – time and time again.
DRIVEN BY RELATIONSHIPS. BUILT ON TRUST.
Since 2011, we have completed projects spanning the US, resulting in the construction of over 2,000,000 square feet of retail, office, and residential space.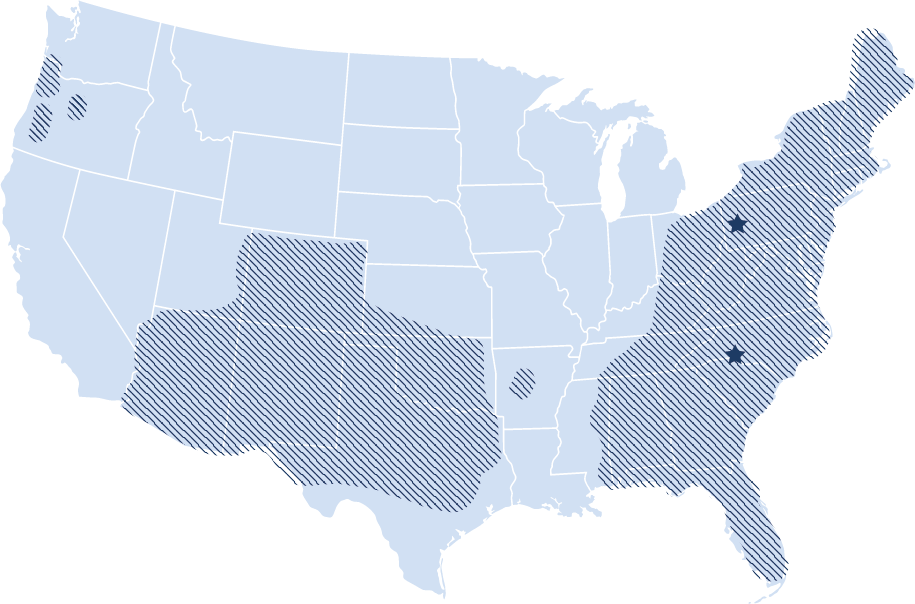 Durban is an excellent team of truly passionate, dedicated real estate professionals who find creative ways to solve problems. They have done a great job for us and I always look forward to working with them."
Brad Smith
Founder & CEO, Hickory Tavern
Ted and his Durban colleagues have worked with us on multiple projects – including as joint venture partners and fee development consultants—with a high level of flexibility, integrity, transparency, and competency. We enjoy our relationship and look forward to future projects together."
Scott Wippel
VP of Real Estate, Harris Teeter
Durban's persistence and creativity directly affected my ability to produce many profitable real estate deals for both Family Dollar and Advance Auto Parts. The friendly, personable way in which they conduct their business makes for a partnership that is both highly effective and enjoyable. Great developers and investors, but even better people."
Evan Landrum
Former Real Estate Manager, Advance Auto Parts & Family Dollar
We have worked with Durban on many development projects throughout the nation. The Durban team has an understanding of what we want and represent us extremely well. They have a keen sense for great sites in great locations, and understand our criteria for sites. Durban combine work ethic and integrity, with knowledge of the 'key' elements needed to get deals done."
Scott Hungate
VP of Real Estate, Site Selection, Family Dollar
The Durban team's persistence and ability to execute allowed us to expand into new markets quickly and efficiently. They couldn't have been more flexible with us and were willing to help however we needed it—from consultation to complete turnkey development. These guys are good."
Patrick Plettner
Asset Manager, Sam's Holding